Anupama Spoiler

Saddened by Nandini's words, Anupama explains to Samar the way he is fighting Mr. Shah for her. Similarly, Nandini is also taking a stand for her aunt Kavya. On this, Samar says that he does not want to get stuck between the family and Nandini after marriage, so he wants to end this relationship right now. Anpuma tries to convince him but he doesn't listen. On the other hand, Nandini also weeps in private and tells the condition of her heart. Anupama goes home and Anuj asks her to share the matter. She narrates the whole thing and also explains the reason behind this happening. Vanraj also dreams of becoming a big man through Malavika. Nandini comes and questions Vanraj about Kavya. Says Kavya is missing but no one in the family is worried. Vanraj asks her to calm down to which Nandini says that she cares about the whole world except her aunt.
Tomorrow- Samar gets angry on Nandini. He takes out her engagement ring and throws it away. Vanraj says that Samar may be different from him, but his own blood is running in his veins. Anupama overhears all this and tells Vanraj that he broke the relationship instead of connecting them. But Samar is neither Vanraj Shah nor Nandini Kavya.

Imlie Spoiler
Everyone is shocked by the word of a bomb in Aditya's ear. The whole family gets involved in raising 100 crores. Here Malini asks her mother for help but Tripathi family refuses to take help of money from her. Imli blames Aryan for all this in the office. Aryan tries to break the matter by talking to the commissioner. Malini polices a case against Tamarind and alleges that Tamarind is in collusion with terrorists. The police catch him and take him away. Aryan keeps standing and watching.
Tomorrow- Tamarind escapes from jail. When Malini gets the news, she gets upset. At the same time, Aparna becomes happy that Aditya's life will now be saved by reaching the tamarind trail.
Yeh Rishta Kya Kehlata Hai (Yeh Rishta Kya kehlata Hai Spoiler)
Aarohi's Haldi Ceremony is celebrated by the entire Goenka family. Kairav ​​senses the distance between Akshara and Aarohi and asks Akshara what has happened, to which she tells that all is well. After haldi, Aarohi has to get ready for marriage. But she insists on going to the parlor and getting ready. Because he has to go to give his exam. She also takes Akshara with her. Later it is revealed that his exam is in some other city, for which Aarohi will take a flight and come back. Akshara explains to him but she does not listen in front of stubbornness. Meanwhile, in the hospital, Abhimanyu is also disappointed about Akshara's bracelet and waits for her mother to come. Here Abhimanyu's sister-in-law sees Aarohi going inside the airport and is shocked. Akshara also looks confused.
Tomorrow- Abhimanyu comes to Akshara after seeing the photos of the camp and asks her for answers. Also asks him to come to Sunset Point.

Ghum Hai Kisikey Pyaar Meiin Spoiler
Sai breaks down seeing Shruti and Virat face to face. On the other hand, Pulikat also refuses to operate on Shruti. On this Sai says that she will leave all these things and help the people who need her. At the same time, she convinces Pulikat to do the operation but he does not listen. On the other hand, Shruti also asks Virat why he didn't tell Sai what his truth is. Also asks her to leave. And asks to clear Sai's misunderstanding. Virat says that he will not leave her side, will never let her be alone, even if she leaves.
Tomorrow- Sai will operate on Shruti. Kaku falls by falling from the ladder. She is taken to the same hospital where Shruti is admitted. Here Sonali sees both of them together and tells the whole family about Shruti and Virat.

Spoiler Alert: Anupama warns Vanraj, Akshara gets turmeric in YRKKH

TV Serial Spoiler: Nandini and Samar's relationship will break in 'Anupama', Akshara-Abhimanyu's marriage in YRKKH!

Spoiler Alert: Pakhi's boyfriend's entry in 'Anupama', eyes on Sai-Virat's divorce in 'Gum Hai Kisi…'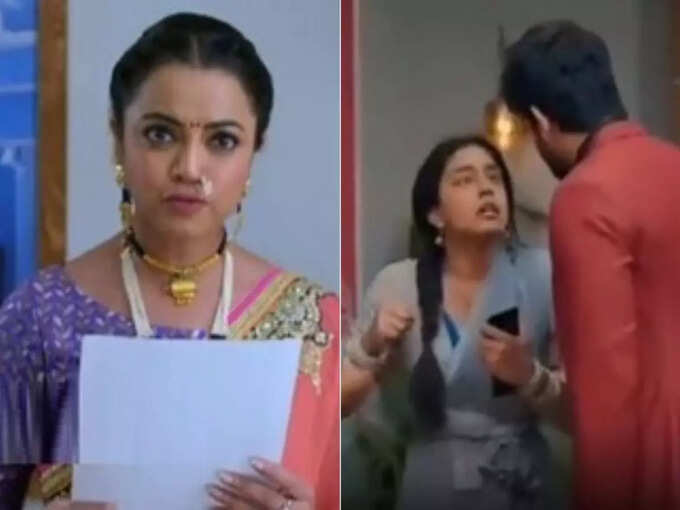 Reference-navbharattimes.indiatimes.com