After 'Pushpa', the Hindi version of Allu Arjun's other film 'Ala Vaikunthapurramuloo Hindi Dubbed' was also going to be released in theaters on 26 January. Producer Manish Shah, who owned the rights for the Hindi version, was hoping to release it in theatres. But Kartik Aaryan threatened that he would leave Shehzada if Allu's film released in Hindi. Because his story is the same as that of 'Ala Vaikunthapuramlo'. In such a situation, the makers were afraid that if it will be released in Hindi only, then Karthik's film will be badly affected.
In a special conversation with India Today, Manish Shah told that Karthik Aryan had threatened to leave the film. Actually, the decision to release the Hindi remake of 'Ala Vaikunthapuramlo' in theaters did not go down well with the producers of 'Shehzada'. Because he was afraid that if this film was released then his business would be disturbed. Manish Shah told that the producers of 'Shehzada' were not ready to release this Hindi remake in theatres. For information, let us tell you that Manish Shah also has the rights of 'Shehzada'. Because the producer of the film Allu Aravind had already sold the rights to him.

There will be a loss of 40 crores
The producer further said that if Karthik leaves the film in the middle, it will cause a loss of about 40 crores to the producers. And Allu Aravind has produced both the films. In this case their consent is necessary. He further said, 'I have known the producers of Shehzada for the last 10 years. I don't want my close friend to suffer a loss of 40 crores. That's why I dropped the decision to release the Hindi remake of the film. However, by doing so, I suffered a loss of 20 crores. I had spent 2 crores only on dubbing. I wanted to make this film bigger than 'Pushpa'. If I don't release it my money will be lost. So I am releasing it on my channel. Manish said that he is doing this not because of Kartik Aaryan but for friend Allu Aravind. He says that why would he do this for the hero of Bollywood, whom he does not even know.
Decision taken by the hit of 'Pushpa'
Allu Arjun's 'Ala Vaikunthapuramlo' was released in 2020. The film was in Telugu and became a super hit. After 'Pushpa' became a hit, it was decided to release this film in Hindi dubbed. But due to Karthik's threat and 40 crores, it will not be released in theaters anymore. Well, 'Shehzada' is being directed by David Dhawan. Manisha Koirala, Paresh Rawal and Kriti Sanon are in the lead roles in this film. Preparations are being made to release the film in cinemas in 2022.

Big fight at the box office in April, these 4 big films including 'KGF 2' will compete

Listened to Pushpa's applause a lot, but even after seeing these 5 mistakes, you could not see!

Shreyas Talpade became Pushpa at the airport, after listening to the dialogue, the fans said – no flower, fire is brother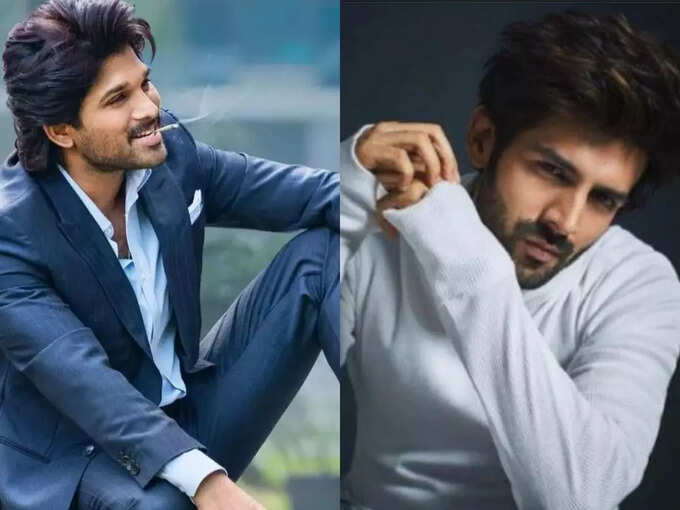 Reference-navbharattimes.indiatimes.com